Hi parents! Summer is in full swing and it is HOT! Are you struggling to get your kids to try new foods and eat healthy veggies this summer? With so many fresh flavors, summer is a great time to introduce new foods to your kids. Try this fresh broccoli salad with your next barbeque!
Broccoli is a member of the cabbage family and contains almost 90% water! It is also a great source of vitamin E, thiamin, riboflavin, pantothenic acid, iron, calcium, phosphorus and fiber. Add in some raisins or dried cranberries for a little sweetness. Using Greek yogurt instead of all mayonnaise increases the protein content while keeping fat content lower!
Summery Broccoli Salad
(adapted from the Academy of Nutrition and Dietetics)
Ingredients:
2½ cups chopped raw broccoli
¼ cup non-fat Greek yogurt
¼ cup mayonnaise
1 tablespoon rice vinegar
1 to 2 teaspoons sugar
¼ cup raisins, currants or dried cranberries
¼ cup chopped nuts (cashews, pecans, almonds)
Directions:
1. Wash and chop the broccoli and set aside.
2. In a medium bowl, combine the yogurt, mayonnaise, vinegar, sugar, raisins and nuts.
3. Throw in the broccoli, and mix well until evenly covered with the dressing.
4. Chill and serve.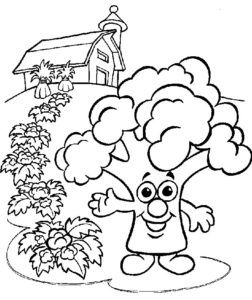 Here's a fun coloring sheet for your little ones too!
(Click on the image then right-click on the zoomed in image and choose "Save Image As")